Sydney Indymedia: Falun Gong: Investigative Report (Photo)
August 2, 2004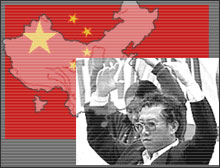 It is confirmed that since the former president of China Jiang Zemin issued the order to persecute Falun Gong in July 1999, Chen Zhili, Minister of Education from 1998 to 2003, has been treading on Jiang's heels and became an active advocator and a willing participant in Jiang's genocide policy against Falun Gong in China's educational system.
The persecution of Falun Gong has penetrated into all venues of education, including graduate schools, colleges, middle schools, primary schools, and even kindergartens, and is unprecedented in the education history of the world in terms of the ranges it has reached, the vast number of people it has victimized and the depth to which these people have been persecuted, and the vicious approaches it has adopted.
Chen took advantage of her special relationship with Jiang Zemin and the privileges she thus received to forcibly carry out Jiang's genocide policy within China's educational system.
She held numerous meetings to personally deploy Jiang's order; she issued documents in the name of the Ministry of Education and carried out a Cultural-Revolution-like pledge in all levels of schools in China, demanding everyone, ranging from faculty members, staffs, to students to speak out against Falun Gong; she forced these people to watch slanderous propaganda movies; she launched the Million Signature campaign to force students to sign a petition against Falun Gong; she directed the Ministry to compile teaching materials and exam papers, including college and graduate school entrance exams, with anti-Falun Gong materials.
She went so far as to use the anti-Falun Gong programs produced by the Chinese Central TV Station (CCTV) as study material in normal schools to infuse animosity into the minds of future teachers in an effort to accomplish long-term mind control.
Documented Cases fall into the following categories:
1. Physical and Mental Torture of Teachers and Students Who Practiced Falun Gong
2. Inciting Hatred and Using Youths to Start Mass Anti-Falun Gong Movement
3. Utilizing the National Resources Designated for Educational Development to Repress, Slander Falun Gong
4. Exporting the Persecution to the International Community
Detailed reports can be found in the main body of the report that is downloadable from at the following link:
http://www.flgjustice.org/report/Reports_TextOnly.zip
http://www.flgjustice.org/report/Reports_withPictures.zip
Source http://sydney.indymedia.org/front.php3?article_id=44271&group=webcast
Views expressed in this article represent the author's own opinions or understandings. All content published on this website are copyrighted by Minghui.org. Minghui will produce compilations of its online content regularly and on special occasions.