Paralyzed Patients Walk Again (Part I)—Stories about Falun Dafa's Healing Power
(Minghui.org) Paralysis is the loss of the ability to move some or all of one's body. Most paralyzed people have to depend on wheelchairs for the rest of their lives. Paralysis causes tremendous pain not only for the sufferers but also for their families.
Thanks to Falun Dafa, an ancient spiritual discipline also known as Falun Gong, some paralyzed patients were able to walk again and live renewed lives.
China Economic Times published an article on July 10, 1998, entitled "I Stand Up." Ms. Xie Xiufen, a resident of Handan City, Hebei Province, regained her ability to stand up and walk again after being paralyzed for 16 years, after practicing Falun Gong.
Yangcheng Evening published an article on November 10, 1998, entitled "Young and Old Practice Falun Gong." It reported that there were over 5,000 people who joined the morning Falun Gong exercises in the city of Guangzhou in Guangdong Province. Among these practitioners, Ms. Lin Chanying, a statistician at Guangzhou Diwei Leather Co., who was 70% paralyzed, regained the ability to walk after practicing Falun Gong.
Below are a few such recovery stories.
Crutches Thrown Away
Mr. Li Fengming, a 67-year-old senior engineer, had suffered from cerebral thrombosis for four years before he attended the seventh Falun Gong class in Changchun City, Jilin Province. Before the class ended, he threw away his crutches and was able to walk by himself again. He was so excited that he cried. His wife wrote an appreciation letter to Mr. Li Hongzhi, the founder of Falun Dafa, that same night.
Another man, in his 50s, who worked for a railroad bureau also saw his cerebral thrombosis cured by Falun Gong. He was very excited and threw away his crunches.
Paralyzed Basketball Player Recovered in One Month
Ms. Wang Jinju was born in 1948 into a poor family in Shandong Province. She has seven siblings. At age 19, she was selected to join the military basketball team.
Ms. Wang played basketball for more than ten years, progressing from player to coach, and winning numerous awards. However, the injuries throughout her career also took a toll on her health.
After she was demobilized from the army, she joined a film and television company as a vice president in Beijing. With the company's business booming, Ms. Wang's financial situation improved significantly. She bought a big house and luxury cars and hired a full-time driver.
However, bad luck struck when she was at her peak. One day in 1995, she suddenly became paralyzed! Her family, relatives, and friends sought medical treatment for her but nothing worked. At that time, all Ms. Wang could do was lie in bed alone and helpless, being taken care of by her elderly sister.
Having gone from rags to riches, Ms. Wang realized that health was the most important thing in her life. Without health, she had nothing.
One of her friends gave her a copy of Zhuan Falun, the main text of Falun Gong, in 1996, and told her that many people suffering from serious diseases had recovered after doing the practice. This gave Ms. Wang hope. After she finished reading the book, she decided to practice Falun Gong.
One month later, Ms. Wang stood up on her own! It was amazing! All her relatives and friends witnessed this miracle, and many of them also started to practice Falun Gong.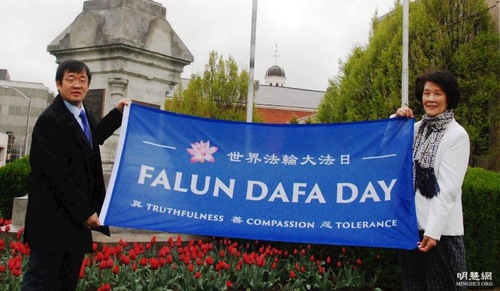 Ms. Wang Jinju Displays the "World Falun Dafa Day" flag at the flag-raising ceremony in Canada

(Continued in Part II)

All content published on this website is copyrighted by Minghui.org. Minghui will produce compilations of its online content regularly and on special occasions.