Seoul, South Korea: Rally and Parade Held to Peacefully Protest Persecution of Falun Dafa in China
(Minghui.org) Falun Dafa practitioners held a rally and a parade in Seoul's city center on July 20, 2022, to call attention to the CCP's (Chinese Communist Party) 23 years of brutal persecution.
The rally was held in front of Seoul City Hall, the seat of the Seoul government. To the left is Deoksugung Palace while the popular Myeong-dong district is on the right. The Seoul library is nearby as well. This is one of the main venues in the city where recreational and cultural activities are held.
Practitioners from around the country began arriving at 7 a.m. The day's event kicked off at 8:30 with practitioners demonstrating the Falun Gong exercises. People heading to work stopped to watch and commented on their eye-catching yellow T-shirts. Many people said the scene was soothing and filled with peaceful energy.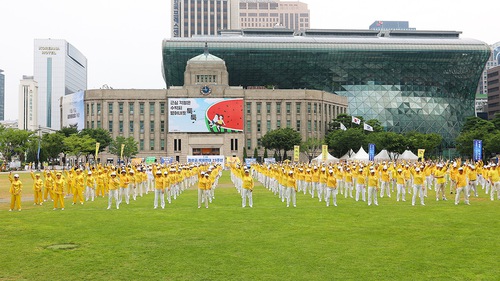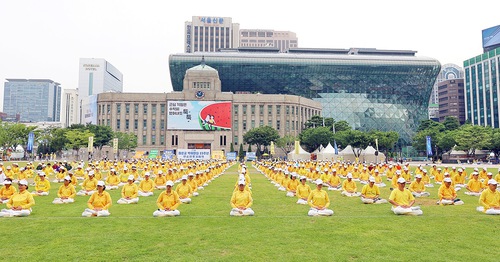 Practitioners demonstrated the exercises in front of Seoul City Hall on July 20, 2022, as part of day-long activities to call attention to 23 years of persecution.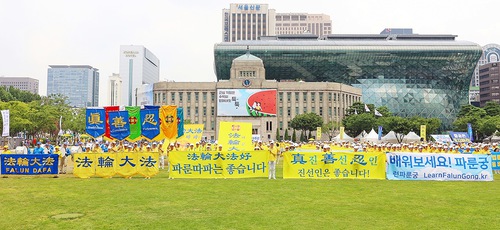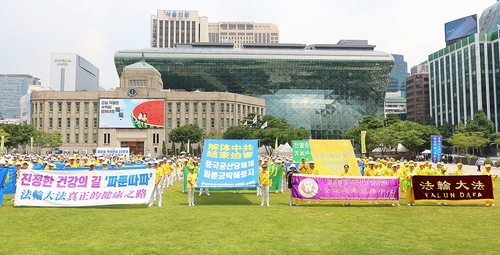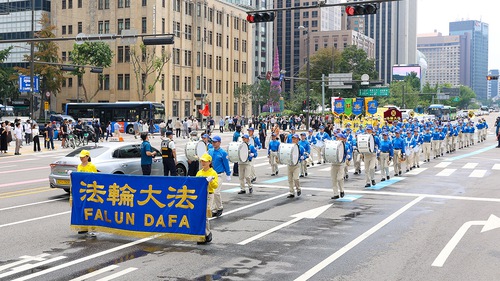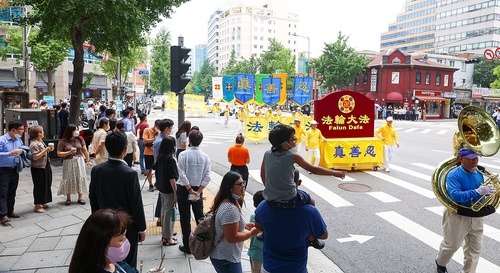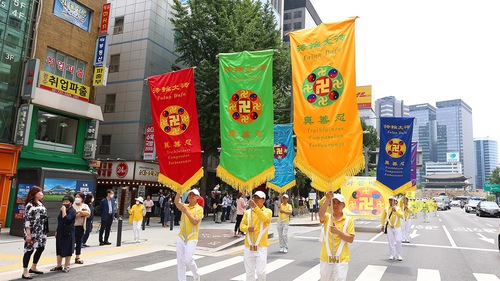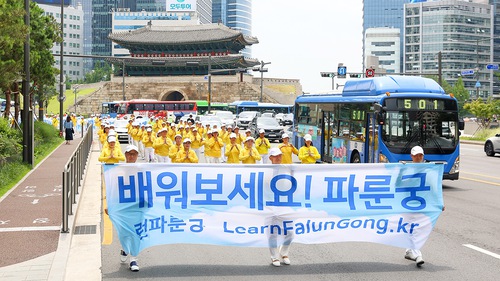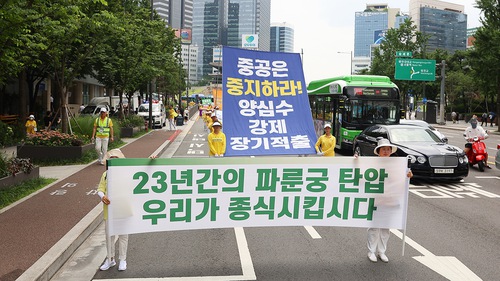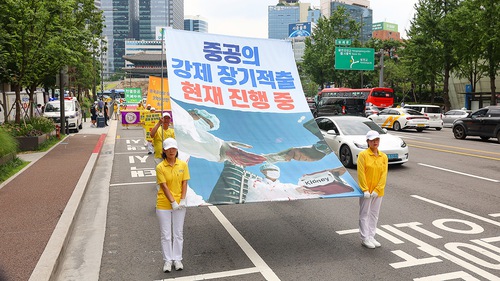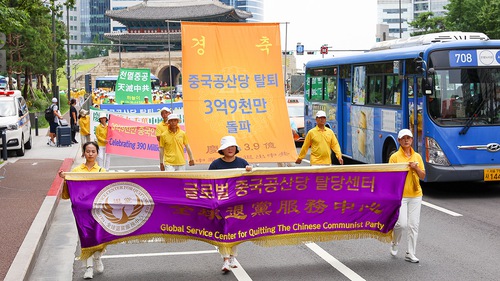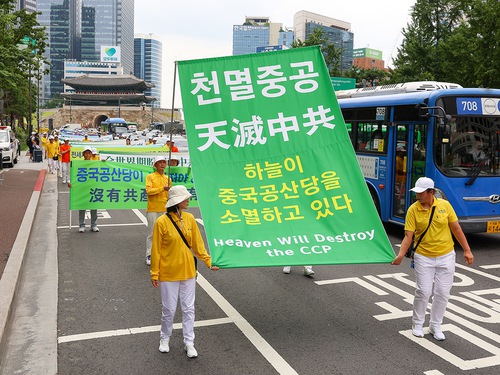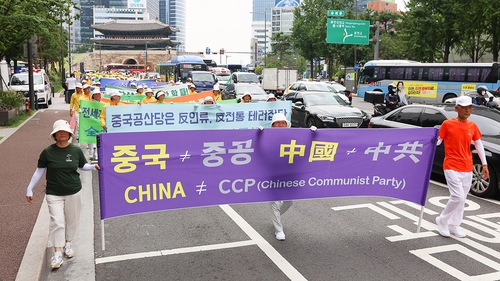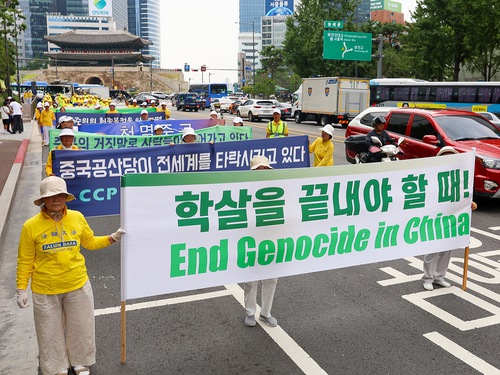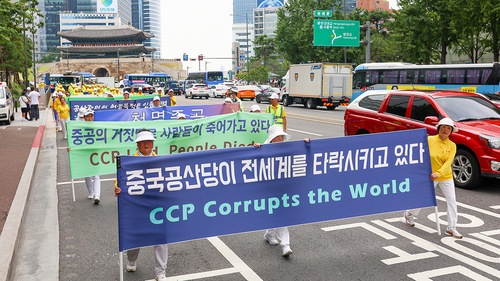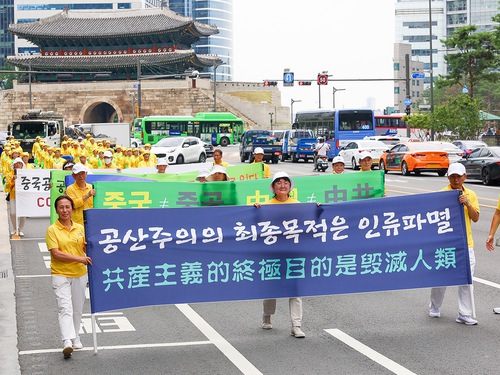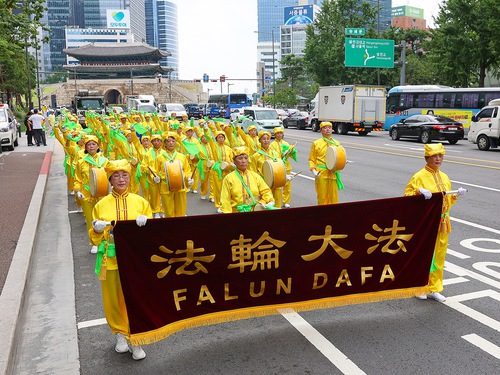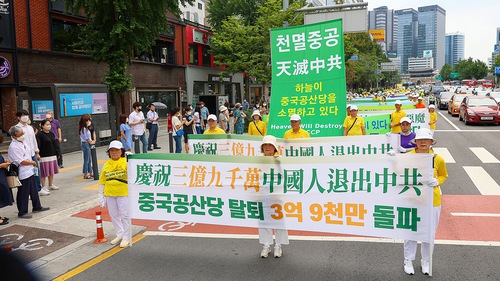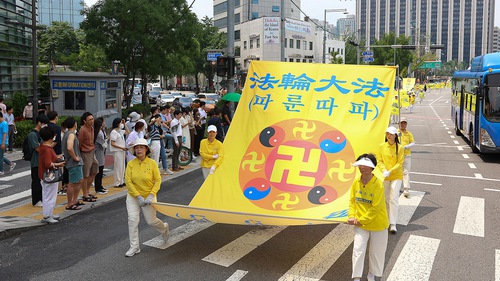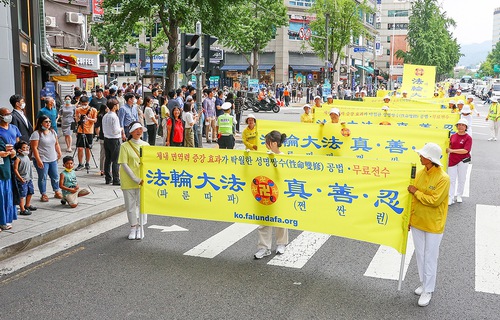 Practitioners in South Korea held a rally and parade in central Seoul on July 20, 2022, to tell residents about the 23-year-long persecution.
The parade was led by the Tian Guo Marching Band followed by sections with information about Falun Dafa, the demonstration of the exercises, quitting the CCP, truth clarification, and waist drum performances.
The large parade spanned two car lanes. To minimize the inconvenience to residents, the Falun Dafa Association of South Korea applied to the police department for traffic assistance beforehand. When passing pedestrian crossings and intersections, practitioners in the parade separated to avoid blocking residents. Police officers were grateful to practitioners for cooperating to reduce any impact on traffic.
Many people got to see the grand parade as it took place during lunchtime. They took photos with their mobile phones and accepted fliers handed out by practitioners. Some asked about Falun Dafa and why they held the parade.
Public Praise for Efforts to Expose the Persecution
The parade route was 4 kilometers long. Practitioners carried colorful flags, and small and large banners with messages including "Falun Dafa is good," "Truthfulness, Compassion, Forbearance is good," "Stop persecuting Falun Gong," and "Time to End the Persecution." There was also a formation of the Falun symbol and an image of the main book on the teachings Zhuan Falun in the parade.
Some passersby followed practitioners and walked part of the route while others stood quietly reading the messages on the banners.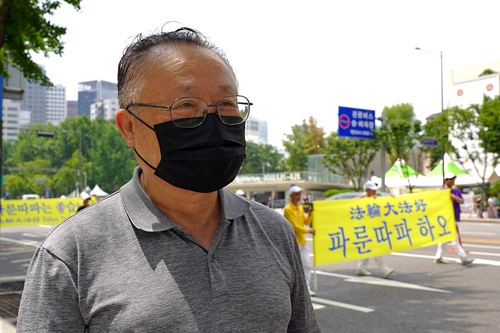 Mr. Jin watched the parade and said he hopes Falun Dafa will be practiced around the world.
Mr. Jin, 74, watched the parade and said he thought it was great that practitioners were asking for the freedom to practice their belief through the parade. "South Korea is a free, democratic country, I hope Falun Dafa will spread around the world." He said he would try practicing, too.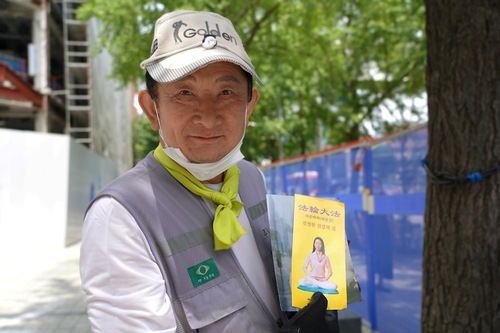 Mr. Cui, a Seoul resident said that practitioners are simply practicing cultivation to improve their minds and bodies, yet the Chinese Communist regime in China launched a persecution.
Mr. Cui, 68, works at a construction site. He said, "Practitioners are simply cultivating their minds and bodies. The CCP launched this persecution because it is the majority and under the name of a communist country, this won't do." He said he's been interested in cultivation for a long time and was keen to know more about Falun Dafa.
Falun Gong Practitioners Explain Why They Resist the Persecution
Ms. Jin Zhengshu, 64, a translator began practicing Falun Dafa 13 years ago. She took up the practice after an acquaintance loaned her a copy of Zhuan Falun. After reading it, she understood that Falun Dafa is not just about improving one's health and fitness. She knew practicing Dafa can help her understand higher principles.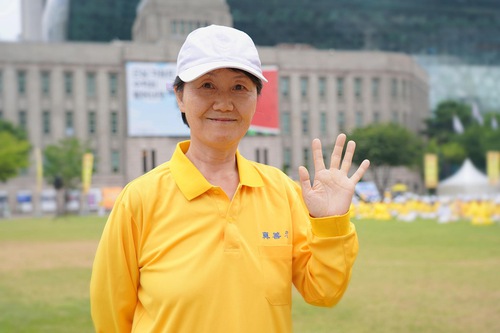 Ms. Jin Zhengshu
When she learned of the brutal persecution in China, Ms. Jin was shocked. "I was puzzled. There is no reason to persecute Falun Dafa. How can a government do such a thing? I later realized the CCP is not a political party but an evil organization."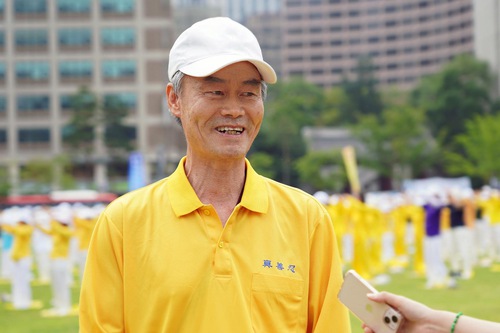 Mr. Jin Yuhan
Jin Yuhan, 64, began practicing 13 years ago after he had cancer surgery and was in poor health. He also suffered from other ailments such as stiffness, pain in the shoulder, and diabetes. He was worried about his health. A few months after he began practicing Falun Dafa, all his illnesses went away and he no longer worried about his health.
He said, "When I looked at photos of practitioners being tortured I felt the persecution was so brutal. I felt the need to tell people how evil the CCP is, and how cruel they are. I participate whenever there are activities to expose the persecution."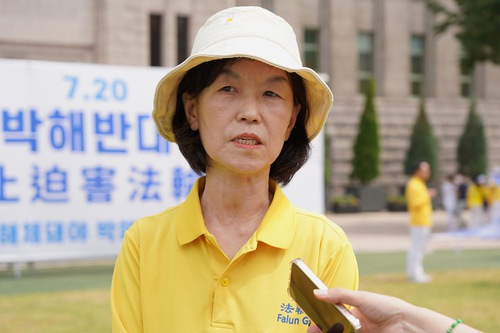 Ms. Li Xiangshu
Ms. Li Xiangshu, 61, began practicing Falun Dafa 16 years ago. She had a busy career and her health was poor. She was searching for a way to improve her health. She thought the exercise movements were beautiful and she decided to practice.
"Falun Dafa is so wonderful, I could not understand why the CCP persecutes Dafa. Over the years I realized how bad the CCP is. The regime vilified such a kind group of people. But what is most remarkable is that practitioners did not give up. Instead, they continue to use peaceful ways to tell people the facts about the persecution," she said.
She continued, "Practitioners who are victimized in China don't hate the police officers who mistreat them. They tell them the truth about Falun Dafa and have won their respect. Practitioners in China have been persecuted for 23 years. Yet no matter how brutal the suppression, it does not break practitioners' will. On the contrary, the whole world knows the truth and supports practitioners in their upright actions."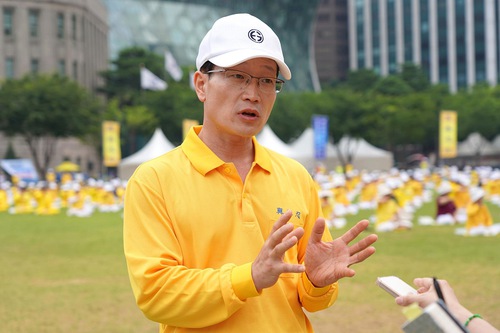 Mr. Jin Daoheng
Jin Daoheng, 51, has been practicing Falun Dafa for 22 years. He was introduced to Falun Dafa just as he planned to join a temple and become a monk. The persecution in China had just begun. He said, "More and more people are supporting Falun Dafa after they hear about the long-term persecution. Many decided to practice because they saw how wonderful Falun Dafa is."
Views expressed in this article represent the author's own opinions or understandings. All content published on this website are copyrighted by Minghui.org. Minghui will produce compilations of its online content regularly and on special occasions.