Australia: Falun Dafa Club Introduces the Spiritual Practice to Teachers and Students During Orientation Week
(Minghui.org) The Falun Dafa Club at Macquarie University in Sydney, Australia, was invited to participate in three days of the school's orientation week. Practitioners introduced the beauty of Falun Dafa to the teachers and students, demonstrated the exercises and provided information to people about how the Chinese Communist Party (CCP) persecutes practitioners, even harvesting their organs when they are still alive.
Students seemed to have a real affinity with the principles of Falun Dafa and told practitioners that Falun Dafa gives them insight into the true meaning of life, relieves stress and improves the quality of their studies. They said that Falun Gong's principles of Truthfulness-Compassion-Forbearance are vital to society and to their lives. Many students signed up to join the Falun Dafa Club. They also condemned the CCP's brutal persecution of Falun Gong, also known as Falun Dafa.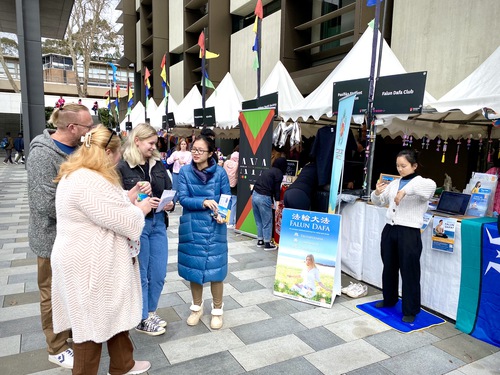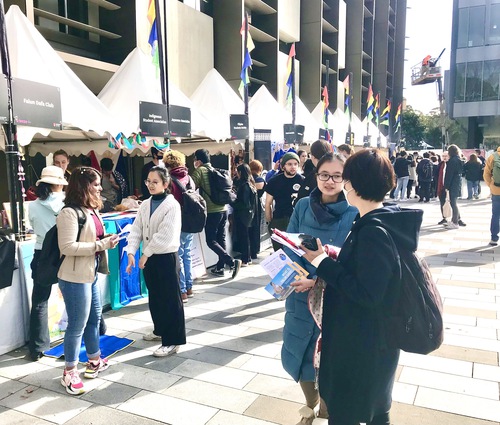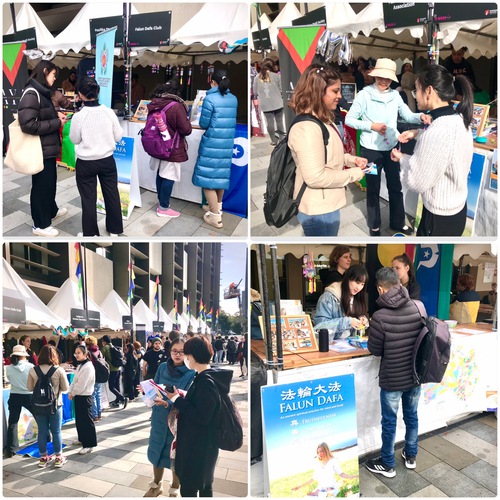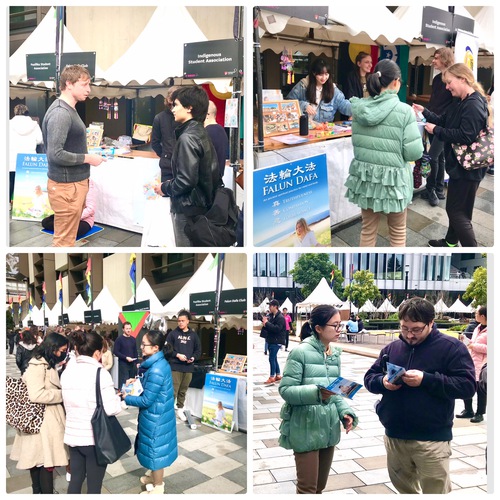 Teachers and students consult with practitioners and sign up with the Falun Dafa Club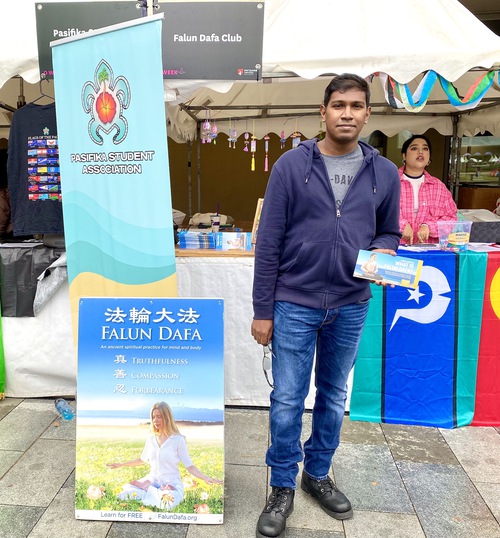 Govarthan Uthaya Kumar
Govarthan Uthaya Kumar, a Malaysian international student studying for a Bachelor of Science degree, said that Falun Dafa can give him insight into the true meaning of life, "For example, who am I? What is the purpose of the life? What is spirituality?"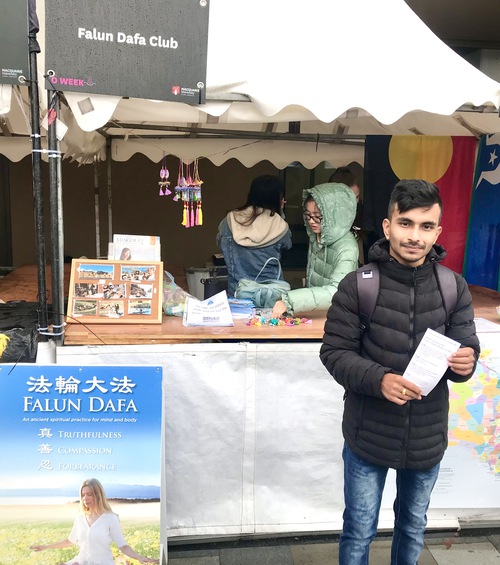 Safel Kafle
Safel Kafle, a freshman of Master of Science in Management of Information Systems, has been meditating for more than two years and is interested in learning Falun Dafa. "Compassion is what human beings need, and it will resonate between people; everyone should be truthful in whatever they do; there are some things we should tolerate," he said.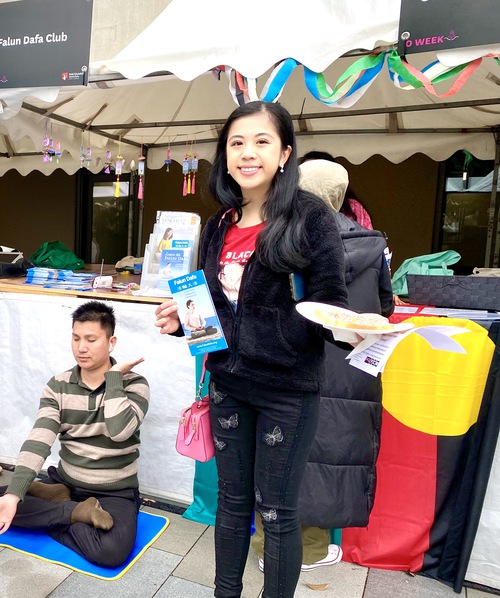 Christine Wang
Christine Wang, a student from Sydney, sees the Falun Dafa Club as a safe place to meditate with a pure energy field. "It's really healthy, especially for mental health," she said. She finds it helpful to meditate because her study load has been heavy recently.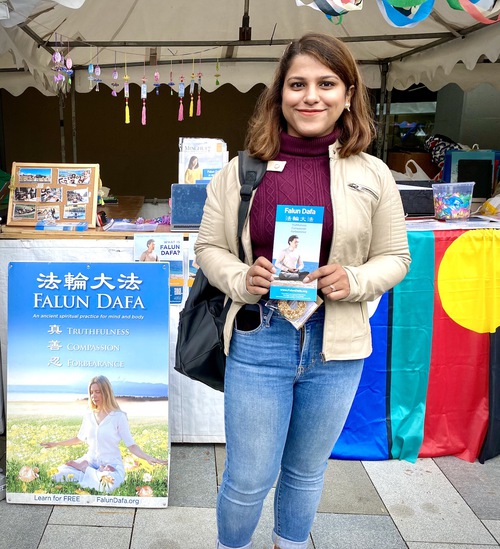 Mehad
Mehad is starting her Master's Degree in Engineering and was attracted to Falun Dafa as she walked up to the Falun Dafa Club booth. "I think it's a new way to be positive. I've never tried it, but I think it's going to be a good experience," she said, "Truthfulness-Compassion-Forbearance is very needed in today's society, especially when people are so intolerant of each other. And kindness is what we need right now."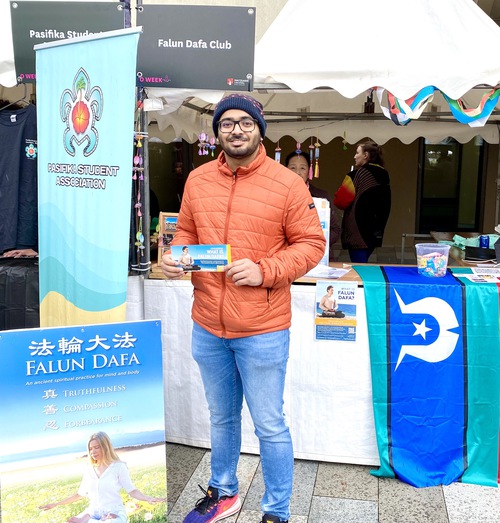 Pradyumn Singh Panwar
Pradyumn Singh Panwar, a student majoring in cyber-security, intended to join the club. He said he opposes the persecution in China. "The CCP must know that people have the freedom to pursue their beliefs, no matter where they are. The CCP should allow Chinese people to practice freely."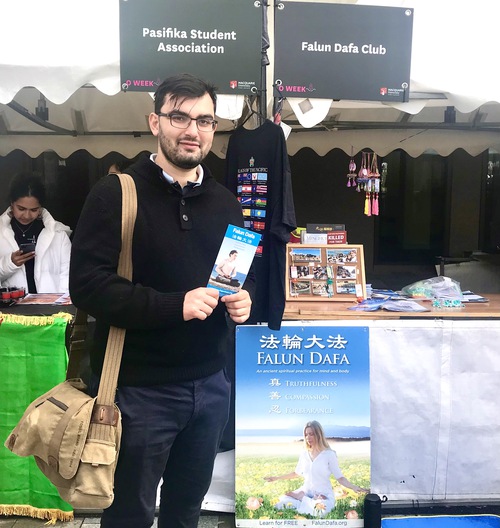 Hassan Faour
Hassan Faour said that organ harvesting from Falun Gong practitioners was terrifying and disgusting. "It's against the law and against humanity to do this to someone or a group of people," he said.
Tamanna, who is majoring in accounting, said that she really needed to practice Falun Dafa because she always seems to have a calculation program running in her head, which can really wear her out. Mindfulness and meditation are what she's been looking for.
She liked the principles of Truthfulness-Compassion-Forbearance. "Truthfulness, like I shall be true to who I am. If we don't become compassionate people, we will be rude to each other. With forbearance, you can tolerate other's mistakes," she said.
Views expressed in this article represent the author's own opinions or understandings. All content published on this website are copyrighted by Minghui.org. Minghui will produce compilations of its online content regularly and on special occasions.