Shandong Man Given Second Prison Term by Out-of-Province Court for Posting Information about Falun Gong Online
(Minghui.org) A 57-year-old Pingdu City, Shandong Province resident was recently sentenced to four years for raising awareness about the Chinese Communist Party's 23-year-long persecution of Falun Gong, a spiritual and meditation discipline.
Mr. Li Shihai was arrested on June 14, 2022, by police in Luoyang City, Henan Province, for posting information about the persecution of Falun Gong on social media. Both his and his wife's cell phones were confiscated. He was taken to Luoyang that day.
The police claimed that they found Mr. Li had established and administered two chat groups on social media and posted information about Falun Gong there. The first group had over 700 users and the second had more than 3,000 users.
Mr. Li appeared in the Chanhe Hui District Court in Luoyang on January 10, 2023. His lawyer entered a not-guilty plea for him.
Mr. Li's lawyer informed his family on January 21, the eve of the Chinese New Year, that he had been sentenced to four years. He has appealed the verdict at the time of writing.
Past Persecution
Mr. Li used to suffer from severe Hepatitis B. He tried many medications and spent a fortune on treatment, but his condition didn't improve. After taking up Falun Gong in 1998, he recovered and became full of energy. But his peaceful life didn't last very long, as the communist regime ordered the persecution a year later. For upholding his faith, Mr. Li was repeatedly arrested and tortured. He was held in a psychiatric hospital twice and suffered a mental breakdown at one point.
Shortly after the onset of the persecution in 1999, Mr. Li, then 33, went to Beijing to appeal for the right to practice Falun Gong. He was arrested and detained for 15 days.
A group of officers scaled his fence and broke into his home in the middle of the night on January 25, 2001. They dragged him out of bed and brought him barefooted to the police station.
As Mr. Li refused to give in, the police handcuffed him behind his back in a metal chair and beat him with a wooden stick. When the stick broke, they picked up a broom and continued to beat him. When the broom also broke, they found a metal stick and struck his head, chest, wrists and ankles. The police also stuffed his mouth with a rag and wrapped his mouth with a thin rope.
At night, the police stripped off his clothes, poured water over him and buried him in the snow, when the temperature outside was -12°C (10°F).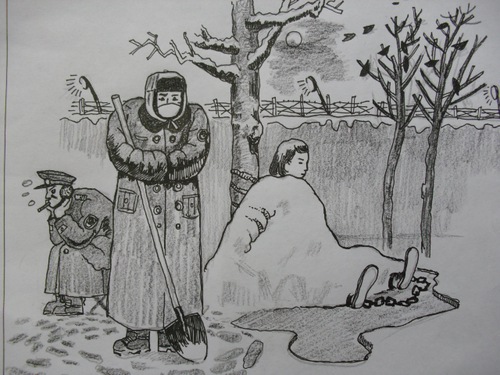 Torture illustration: buried in the snow
After four days of torture, Mr. Li was taken to the Pingdu City Detention Center. The inmates beat him, deprived him of sleep and forced him to stand for long hours. He held a hunger strike for 13 days in protest and was force-fed saline water four times. On the verge of death, he was taken to the hospital for emergency treatment. The police released Mr. Li on February 10, 2001 after extorting 5,000 yuan from his family.
Mr. Li was unable to turn his body while sleeping. It took him a month to fully recover.
The police returned to his home many times and confiscated many of his valuables, including two motorcycles, a TV, media players and recorders, as well as his Falun Gong books.
For going to the local government in the spring of 2002 to demand the authorities return his Falun Gong books, Mr. Li was arrested and taken to a local psychiatric hospital.
Mr. Li was forced to take (by mouth and through injections) unknown drugs that damaged his nervous system. He was also shocked with electric needles and ordered to verbally abuse Falun Gong and its founder. He was tortured like that every day for over a month and had 2,400 yuan extorted from him before being released.
As a result of the torture and forced drug administration, Mr. Li often woke up from nightmares at night. His condition kept worsening, rendering him unable to live a normal life.
Through practicing Falun Gong, Mr. Li recovered by 2004. He went to Beijing to appeal for the right to practice Falun Gong, but was arrested again and held in another psychiatric hospital for eight months. This time, he suffered brain injuries and memory loss.
Mr. Li was arrested again on May 17, 2016, when he was selling tea in the market. He was first given 15 days at the Laixi Lockup and then placed under criminal detention at the Laixi City Detention Center.
When his lawyer visited him on June 14, 2016, he learned that Mr. Li had been holding a hunger strike since his arrest. He was force-fed and had been vomiting blood. Even during their meeting, he vomited blood again. The lawyer also noticed swelling on Mr. Li's head, likely a result of beatings.
Mr. Li was sentenced to two years later on and released on May 16, 2018.
Perpetrators' information:
Liu Wugang (刘武刚), officer of Luoyang City Police DepartmentJiao Shexin (焦社欣), officer of Chanhe Police StationPan Fei (潘飞), presiding judge Chanhe Hui District Court: +86-379-63159607
Related reports:
Shandong Man Stands Trial in Henan for Posting Information about Falun Gong Online
Shandong Man Arrested for Raising Awareness about the Persecution of Falun Gong Online
Judge Interferes with Lawyer's Representation of Falun Gong Practitioner
The Mental Torture of Mr. Li Shihai from Pingdu City, Shandong Province Continues After Four Months
All content published on this website is copyrighted by Minghui.org. Minghui will produce compilations of its online content regularly and on special occasions.