Announcing an Update to Minghui International - Now Available in Print and Online
(Minghui.org) We are pleased to announce the publication of an updated English edition of the Minghui International publication. A Chinese version was also recently published. Other language versions are expected to follow shortly. The format of the publication is a magazine totaling 16 pages. Images of the front cover and the interior spreads are presented below, as is a table of contents.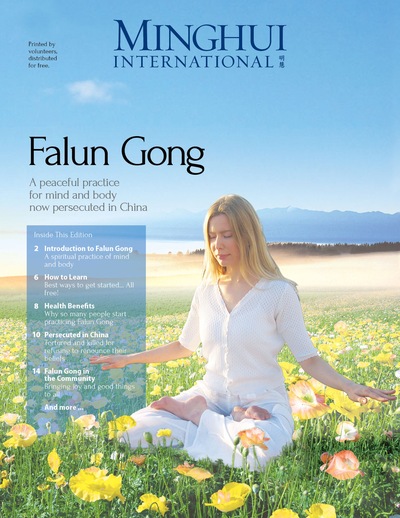 Read Online (You may resize the pages by pressing CTRL – or CTRL + Return to default by pressing CTRL 0. On a Mac, use CMD – and CMD + )
Table of Contents
Front Cover -Inside This Edition
Introduction to Falun Gong -Introduction -Benefits of Falun Gong -The tradition of self-cultivation
Practicing Falun Gong -What does it mean to practice Falun Gong? -Practitioner Experiences
How to Learn Falun Gong -Introduction -Zhuan Falun -The Five Exercises -Choose how you'd like to get started
Health Benefits -Falun Gong renews health for millions -Practitioner Experiences -One Person's Story
Persecuted for Their Beliefs -Nearly 1 in 10 Chinese people had taken up Falun Gong -Arrested, Tortured and Killed
Propaganda as a Tool of Repression -Introduction -Peaceful Demonstration Portrayed as a "Siege of the Government" -Government Stages Burnings on Tiananmen Square -Falun Gong Wrongly Accused of Being Responsible for 1400 Deaths -The World Speaks Out -Organ Harvesting
Falun Gong in the Community -Practitioners Enrich the Lives of All They Touch
Back Cover -About Minghui.org -Four Easy Things You Can Do to Help Stop the Persecution
All content published on this website is copyrighted by Minghui.org. Minghui will produce compilations of its online content regularly and on special occasions.